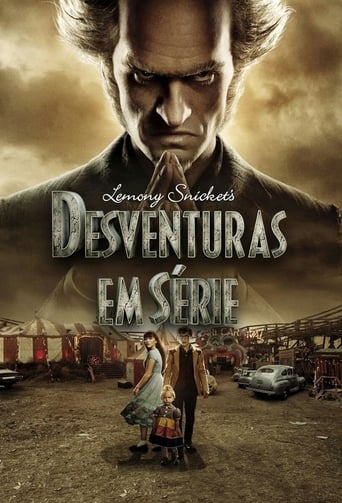 »INFORMAÇÕES«
Titulo Original: A Series of Unfortunate Events S02
Ano de Lançamento: 2018
Gênero: Aventura, Drama, Família
Formato: Mkv
Qualidade: WEB-DL 720p
Idioma: Português, Inglês
Legenda: Português
Tamanho: 6.37 GB
Duração: 45 Min./EP.
Qualidade do Audio: 10
Qualidade de Video: 10
IMDB 7,9/10

SINOPSE: Desventuras em Série 2ª Temporada Completa (2018) Torrent – WEB-DL 720p | 1080p Dublado / Dual Áudio 5.1 Download Torrent HD Full Dublado Assistir Online Download 1080p 720p Dual Áudio – A Series of Unfortunate Events (Desventuras em Série) conta a trágica história dos órfãos Baudelaire – Violet, Klaus e Sunny – cujo tutor malvado, o Conde Olaf, não medirá esforços para colocar as mãos na herança deles. Os irmãos devem ser mais espertos do que Olaf a cada situação, para descobrir as pistas que levam à morte misteriosa de seus pais. Após seu elaborado plano falhar e suas maléficas intenções serem reveladas, o Conde Olaf utiliza uma variedade de disfarces estranhos para atravessar o caminho das crianças, causando o caos aos Baudelaire e seus guardiões subsequentes.
Desventuras em Série 2ª Temporada Completa (2018) Torrent – WEB-DL 720p Dual Áudio 5.1 Download

Caso haja algum problema de reprodução: K-Lite-Codec-Pack
Baixar WEB-DL 720p Dual Áudio
Desventuras em Série 2ª Temporada Completa (2018) Torrent – WEB-DL 720p Dual Áudio 5.1 Download